Wood as success factor for any interior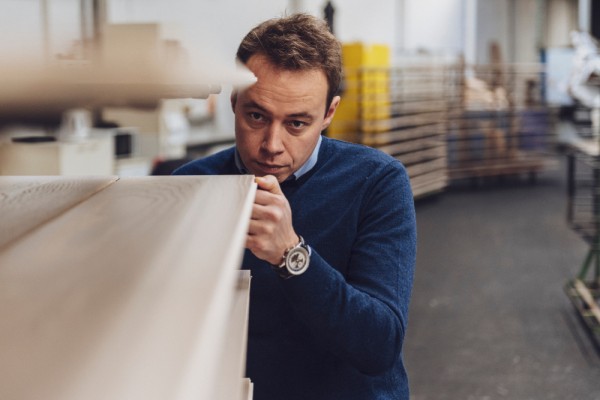 "Every successful interior needs wood. We at Woodstoxx are already convinced of that", says Robbert Desmet, manager Woodstoxx. Discover Robbert's vision on the future of wood within the interior sector.
Every day we work - in front of and behind the scenes - on ways to take projects to a higher level with the power of wood. Of course we follow the trends closely. We build on our constructive partnerships and lay a solid foundation for new professional relationships.


We are currently seeing two major shifts in the supply of and demand for timber for the construction industry. Whereas wood used to be classic in the form of parquet floors, it is increasingly moving inside the interior space. Of course, parquet remains an important element of atmosphere and style. Nevertheless, wooden ceilings and wall coverings are also on the rise. And it no longer has to be the traditional types of wood. Take parquet floors, for example. Still 98 percent of our parquet is oak, in a wide variety of colours and finishes. But in addition to this, we put a lot of effort into the forgotten wood species. There is also an increasing demand for these. Just think of teak, mahogany, maple or poplar, to name a few.
We at Woodstoxx welcome the fact that consumers are open to new and different applications of wood in interiors. Our R&D team creates products tailored to these trends. In this way, we have already been able to realise some great projects. These success stories will soon result in a new collection.
It is an example of how the changing market is always developing opportunities. At the same time, it also brings challenges. Today, we see these mainly in the demand for multifunctional products. Materials that combine aesthetic added value with practical benefits. Fire-resistant qualities for outdoors. Acoustic properties or climate ceilings for interiors.
Even today, the uncertainty during the corona epdemic is of particular concern to us. Nobody knows how the market will evolve. In the short term, the impact is not so great with us. But what will happen in the medium term? What type of real estate are people going to choose? And with which products will we be able to respond? By keeping our finger on the pulse, we are trying to follow the shifts in the market.
Whether the sector is recovering quickly or is facing a difficult period: I remain convinced of our values and standards. Quality always prevails. And permanent partners are priceless. Even in difficult times, we stick to our network. In recent years, we have shared successes. So let's share the pain when things get worse. Because together we are strong.