Our Services
Woodstoxx - Your permanent partner for the purchase and execution of wood for your project !
Woodstoxx, the stock vendor of parquet and laminate flooring at the time, has today grown into the Belgian quality player for the realisation of various wooden applications. Our mission is simple and clear: we want to transfer the warmth of wood in an innovative way in every project, both for private individuals and for construction and renovation projects.
Customer support

At Woodstoxx we guide our customers with passion. We welcome private and business customers in our showrooms in Menen and Ghent, where we try to find out exactly what the customer is looking for, down to the smallest details.
Thanks to our experience centres, our customers can feel, smell and see the wood in all its glory. For the various applications, from terrace to facade cladding and real wood floors, our sales staff will guide you to make the best choice. Our advice always takes into account your budget and the appearance you wish to obtain. One thing is certain, we offer you the best quality for a sustainable realisation that will last for years.
Are you an architect or project developer? Then we sit down together to offer you the best possible solution, at a very competitive price. We make sure that your end customer can show off his outspoken realisation of the very best quality.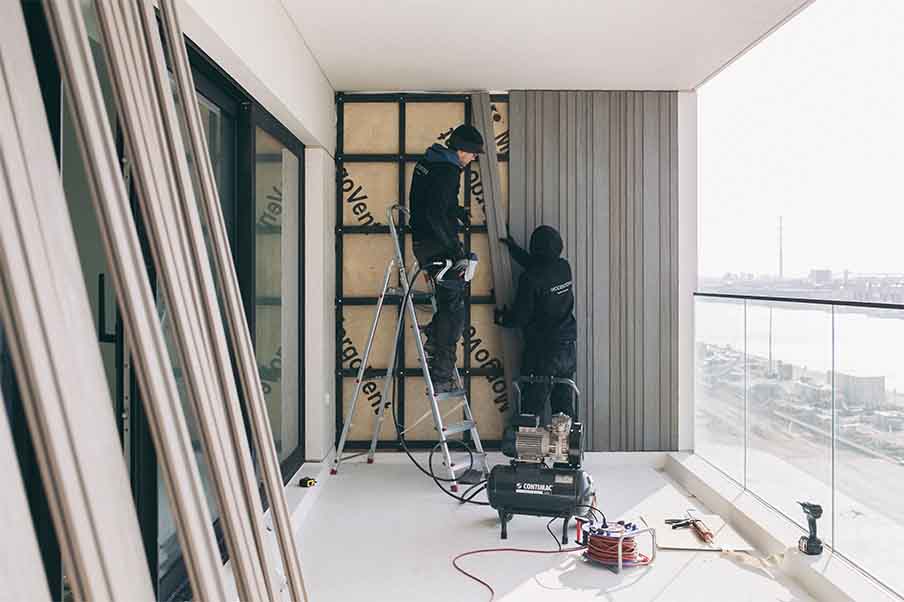 Sales & Installation
Woodstoxx is a dual player: we do not only supply private individuals and construction companies with quality timber. Even more so! Woodstoxx takes on complete projects. Thanks to our talented craftsmen, we carry out large-scale and small-scale timber projects for numerous construction companies. What distinguishes Woodstoxx from other installation companies? We use durable fixings, quality wood with respect for the environment, and install wood applications according to traditional methods with an eye for the smallest details.
Experienced fitters
Woodstoxx has a very strong reputation. With our own team of 50 professional installers, we install the best wood applications of the highest quality throughout Belgium. Our fitters receive intensive training to get to know our products and to realise installations of the highest class. Our craftsmen learn from each other and share the same passion: woodworking.
Our mechanics are divided into two main groups: one team for exterior applications, such as wooden facades and wooden terraces. And one team for interior applications: wooden interior walls and wooden floors. So each division has its own speciality. This ensures the best quality of the delivered projects!
Installation of Wooden Facades & Wooden Terraces
Team exterior is responsible for exterior facades and terraces. For this Woodstoxx uses only the hardest and most durable wood species. We provide an installation that breathes. This ensures a durable application. Because wood that does not breathe is wood that has a chance of decay or greening. We provide the most optimal installation, so you will be carefree for years to come.
Installation of Wooden Floors, Vinyl and Laminate
Everyone has heard a story about a poor installation of a parquet or laminate floor. At Woodstoxx this is an unseen phenomenon. Yes, it is! We attach a great deal of importance to installations that are done according to the rules of the trade. The correct moisture balance during installation, the perfect amount of glue, an even level floor, taking into account the play and expansion of the wood, various installation techniques such as Hungarian point or herringbone motif, etc. With Woodstoxx you can be sure that the installation will be carefree down to the smallest details.
Would you like a quote for the installation of your floor, facade or terrace? Would you like to visit our showroom? Then contact our team now!