Veneer parquet
Veneer flooring is a type of multi-layer parquet that combines the warmth and unique look of real wood with the advantages of laminate flooring. This type of parquet is just as easy to install and maintain as a laminate floor. However, there is one big difference: the top layer of each veneer plank consists of real wood. In the Parky Corners in our experience centres there is an extensive range of samples. Our sales team is happy to assist you with their professional advice.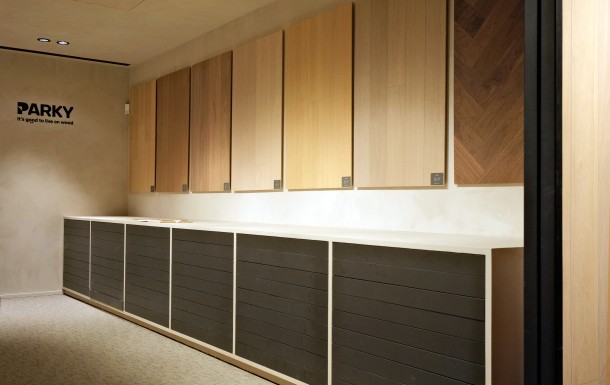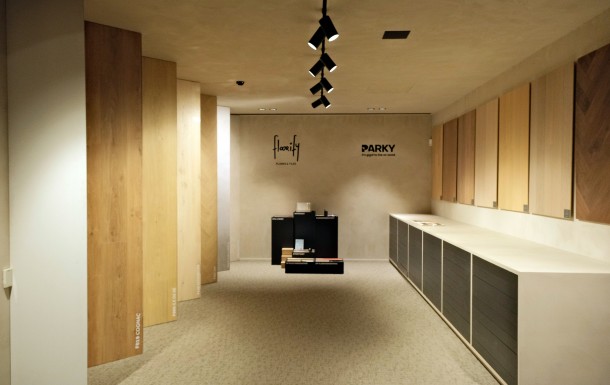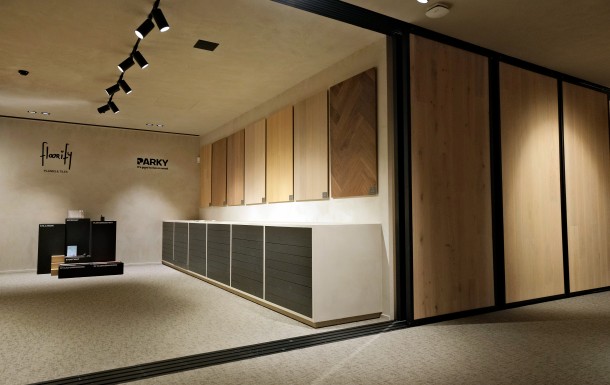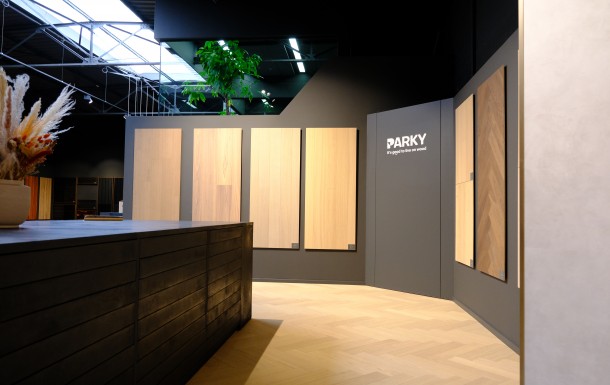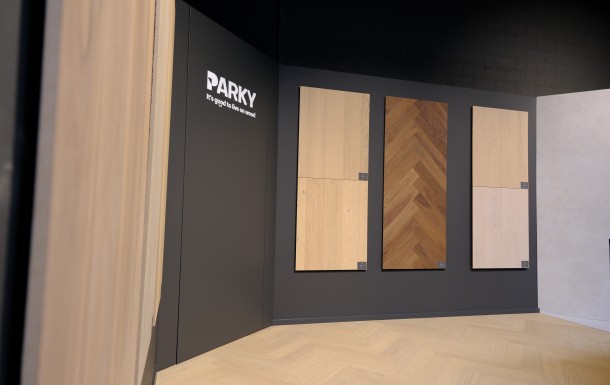 Collections
What is veneer parquet?
Veneer parquet is a type of multi-layer parquet that combines the warmth and unique design of real wood with the advantages of a laminate floor. This type of parquet is just as easy to install and maintain as a laminate floor. However, there is one big difference: the top layer of the veneer floor is made of real wood, and not an imitation print like with laminate. What you see and smell is natural wood. Each veneered parquet floor board is unique in its kind: a thin layer of high-quality wood veneer is glued to the robust and dense intermediate layer.
Although the individual layers are relatively thin, they still form a solid and durable floor covering. Veneer floors are an ideal choice for underfloor heating, as the floor covering structure distributes heat evenly and the adhesive-free joints prevent cracks from forming. The dense middle layer ensures better heat conduction.
Veneer is different from multi-layer parquet because the top layer is thinner than 2.5 mm. The floor is scratch-resistant thanks to the various layers of varnish applied during the production process. The real wood veneer wear layer is thin, but very resistant, and the hard body is stripped of the impact of shocks caused by everyday use of the floor. Cavities and dents in veneer floors are rare anyway. Whether you opt for a three-strip construction or parquet strips, you will be able to enjoy your floor for years to come.
Advantages of veneer parquet
Affordable parquet floor
Parquet floors are available for all budgets. Are you thinking of a laminate floor because a real wooden floor would be too expensive? Then take a look at the veneer floor. With such a parquet floor you have a real wooden floor for the price of a laminate floor in the upper segment. In addition, veneer is durable and easy to clean.
Impact resistant and easy to maintain
Veneer floors can withstand blows because they consist of three different layers. Veneer floors have solid layers of lacquer. This makes your floor practically scratch resistant and ready for intensive use.
Very resistant
Our titanium finished wood floors, combined with a high density fiberboard core (HDF), make your floor stronger and more dimensionally stable than any traditional wood or solid wood floor. Use Parky with confidence in the most difficult areas of your home, such as your kitchen, or in high-traffic areas in commercial use, such as hotel lobbies, offices, shops, etc.
Waterproof surface
The Parky board has a waterproof surface. The combination with the Aqua Sealing Complete system, which protects the bevel, gives you a waterproof floor for 12 hours. This makes your floor bulletproof from everyday spills and falls.
A sustainable choice
Wood is precious. We use it sparingly! We only use a thin layer of wood for the top finish. Our trees come from sustainably managed forests and each plank is 100% recyclable, contributing to the circular economy. We get our energy from the generation of solar and wind energy. Sawdust and wood waste from our production facilities are used to heat the floor space. The future is a CO2 neutral world.
Real wood
Smell the real wood. Each Parky floor is finished with a top layer of authentic woods. Like a solid wood floor, no two planks are the same. Oak, teak or other types give that beautiful natural look you are looking for. The warmth of wood can never be found in a fake.
Perfect match for your underfloor heating
Different types of radiant heating systems can be used with Parky. All technical details can be found on our website.
A floor for better indoor air quality The Parky floor is only finished with water-based stains, adhesives without volatile organic compounds and solvent-free paints. It has been scientifically proven that indoor air quality improves with a Parky floor. All floors have an A + quality label.
Infinite variations
Each type of wood has its own character that suits your personality or taste. You can choose from more than 20 colors, different patterns and sizes until you find the floor that fits perfectly into your interior. Smooth and subtle, rustic for a distinct touch or exotic wood - it's up to you.


Composition of Par-Ky Veneer parquet

1. Titanium: the 8-layer invisible varnish
We can call it Titanium! Extremely resistant thanks to eight coats of specially developed bullet-resistant paint. Your floor is resistant to daily wear and scratches, the pores are moist and dirt-resistant. A brushed finish is available, allowing you to feel the natural grain and pattern of the wood. This extremely wear-resistant, matt lacquer is almost invisible.
2. Thin layer of real wood
We press a wooden wear layer on the HDF plate according to the DSI system (double-sided impregnation). During this process, the glue is pressed into the wood. While the top layer is being lacquered, the wood absorbs the lacquer and melts with the adhesive. The result is a titanium wooden top layer.
3. A solid high-density board
The thinner the top layer of wood, the more impact resistant the floor. HDF just below the wear layer is even more resistant than natural wood. This makes the floor more resistant to heavy objects or stiletto heels.
4. Stability
Wooden underlay for dimensional stability.