Tropical hardwoord a thing of the past? Enter Fassade.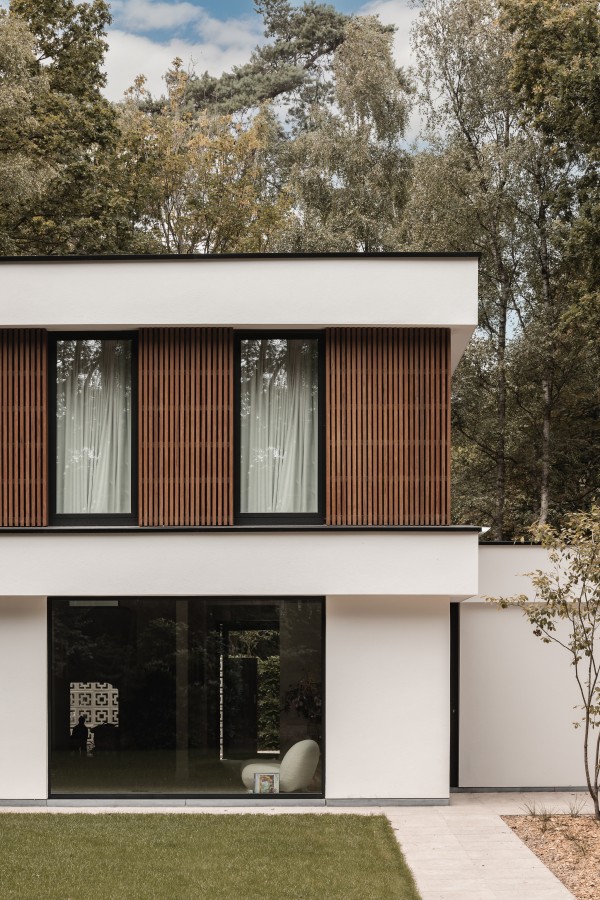 With the growing awareness of global warming and the changing climate, the preference for sustainable products is becoming increasingly palpable. This also applies to the construction industry and, by extension, also in the timber sector. FSC, PEFC, carb2compliant, BREEAM: the greener the product, the better - not to mention the ever-stricter regulations. However, when it comes to tropical hardwood, we are left with little choice - regardless of current ecological developments. At present, demand far exceeds the remaining supply. The conclusion is simple: the market needs a worthy alternative.
And then thermowood soon comes to mind. An alternative for outdoor applications? Yes indeed. Equally qualitative? Not quite. Thermowoods such as spruce, pine, larch and ash are treated at high temperatures, which affects the strength of the wood, among other things. The wood loses strength, making it less suitable for certain construction applications. Aesthetically, the range is also rather limited. The types of wood mentioned above all have a specific look, with many knots or a very present pattern and do not usually discolour evenly. Moreover, the thermal modification process changes the colour of the wood, making it impossible to maintain the original colour. It is important to take into account the desired aesthetics of the final product and whether thermowood's colour change matches it. Problems with discolouration can also be found with tropical hardwood, which does not always age evenly. In addition, the wood can be susceptible to soiling, warping and cracking if not properly maintained.
Hence, there is a clear demand for a sustainable alternative to tropical hardwood that can match the good qualities - without the disadvantages - and that qualitatively surpasses thermowood. This is where Fassade enters the picture. "We can be quite proud of Fassade," states Yves Lecluyse, R&D Manager at Woodstoxx. "It is a huge step forward in softwood preservation. Usually, tropical hardwoods are preferred for outdoor use, but today these are becoming increasingly depleted. We would not be worthy of the title "suppliers of nature" if we did not look out for equally sustainable alternatives. We have done that quite nicely with Fassade and Duricoat®. Duricoat® is a new patented preservation process applied to softer, thermally modified timbers. The process ensures that these timbers become much more resistant to scratches and other damage, so they age more beautifully and consequently remain in prime condition much longer."
In a nutshell, Fassade is actually the answer to a four-part problem. The R&D team started from some common problems of thermally modified cladding and developed a solution for each drawback. Specifically, these include the appearance of water circles, uneven discolouration, brittleness and fire safety. Water rings and brittleness are counteracted by sealing the edges and the application of Duricoat®, resulting in a scratch-resistant and water-resistant wood. This also gives mould very little chance. As a solution for uneven discolouration, we collaborated with a panel of architects to develop ten different shades that are guaranteed to discolour evenly. If the customer prefers the cladding to age naturally, but evenly, then that is possible. If he prefers to maintain the brown or black colour, that is also an option, provided the cladding is properly maintained. Finally, we also worked out various solutions for fire safety. Fassade allows you to provide your house or project with a warm, wooden look within the rules of fire legislation. Most of the collection is available in fire class B.
When it comes to sustainability, Fassade also performs well. Using wood as a building material is a sustainable choice in itself, but Fassade takes it one step further. The Duricoat® process makes this collection a full alternative to tropical hardwood. In addition, Woodstoxx chose three fast-growing tree species, which can be felled and replaced more quickly, resulting in more CO² being removed from the air at the same time. This is because trees absorb more CO² during growth. We hope this will pave the way for softwood as a full-fledged outdoor wood species, thus reducing the demand for tropical hardwood.
We recently added a new fast-growing wood species to the collection: limba. In addition, we developed two new weathered colours and four new profiles. Round cladding and wide planks of no less than 273 mm wide - which are guaranteed to remain stable - now complete the range.
Discover all about Fassade here.