Multilayer parquet Belgiqa Artisan Marseille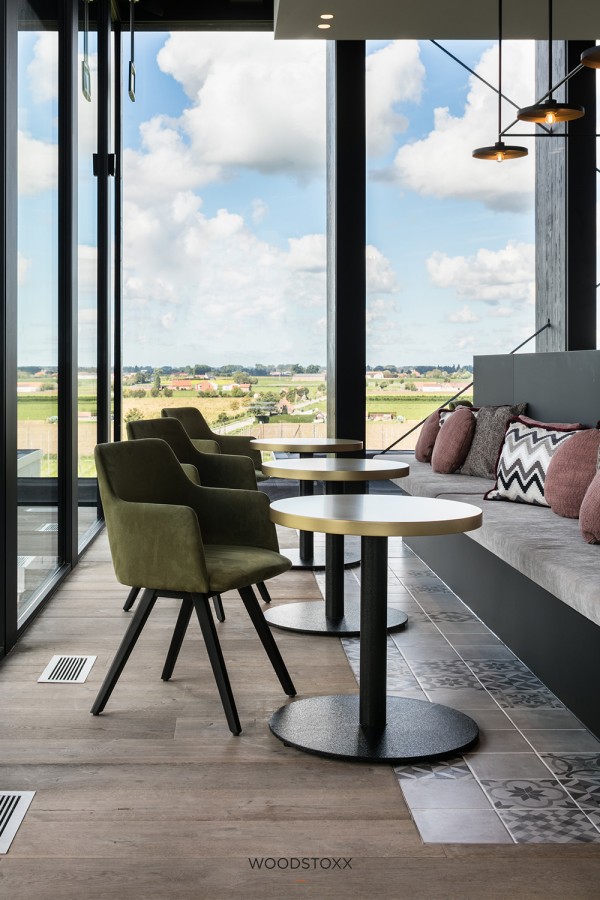 In Watou, the Sint-Bernardus brewery has taken its new building into service. In addition to the modern warehouse, the rooftop bar 'Bar Bernard' steals the show. Our craftsmen decorated the bar in cooperation with interior architect Marie Lecluyse. We chose Artisan Marseille for the parquet floor. By just finishing the parquet floor with a soaping treatment, it keeps its natural, warm colour. On the terrace, the plank floor and the benches in exotic hardwood Massaranduba effortlessly combine creating an inviting, cosy vibe. A maintenance-friendly choice thanks to the stain-proof character of this strong wood species.
"Bar Bernard has to radiate the vibe and the exceptional taste of the Sint-Bernardus beer. The decoration refers to the traditional warm character of the beer brewing activity. Simultaneously, the decoration radiates the faith in the future, by integrating contemporary shapes, thanks to among other things the outside furniture by Extremis", so explains the architect. "In this way, the picture gets its dynamism. The vibe immediately gives you a great feeling. Also thanks to the choice of the Woodstoxx parquet and the indoor furniture by De Zetel."