Unicus Poolhouse - Barnwood Black-Out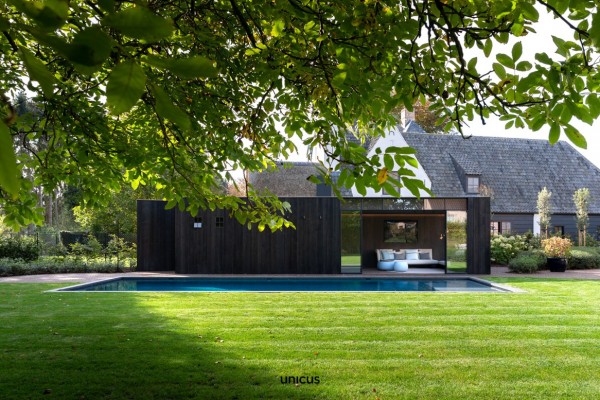 In this realisation we have drawn the map of "tight rural". By combining a sleek design with recuperation materials such as Barnwood blackout, this pool house is an eye-catcher in this garden. By staining the Barnwood, originating from old stables, black, the pool house subtly blends into its surroundings. The steel windows, the perfect interior choice by 't Huis van Oordeghem, the austere garden by Tuinen Snaet and the minimalist swimming pool of Parydel, form a harmonious whole. Enjoy!
Concept & realisation: unicus
Barnwood black-out: Woodstoxx
Interior: 't Huis van Oordeghem
Garden: Tuinen Snaet
Pool: Parydel
Photography: Nicolas Vantomme

*Our designs are under legal protection. So unless you like to get in trouble, don't copy them. Come meet us instead! We'll be happy to see what we can do for you.