Simon, Technical draftsman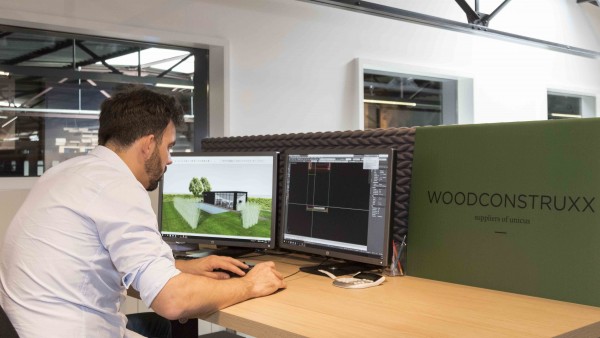 He has a penchant for wood, loves creative input, inventing solutions for technical challenges and creating aesthetic unity. Simon Mailliard is one of the technical draughtsmen at Unicus.
Technical draughtsmen are masters of detail and developing plans. Simon goes a step further. He is involved right from the start and helps convert the client's ideas into something that really responds to their requirements.
"Previously, I was a technical designer for turnkey projects. There was little challenge involved. The design was fixed. At Unicus I can enjoy myself creatively. From customer contact to the customized design, complete follow-up process and finish."
"I am involved in the design from the start. As such I'm aware of every nuance."
Unicus specializes in customised wooden outbuildings. As a pool-house, additional outdoor space or as an extension of the living space. Everything is possible.
"Precisely because I know what the customer's requirements are from the start, I understand exactly what the expectations are. I know all the nuances that are needed".
"Simon translates these nuances into a 3D visualization and technical plan.
"A lot of glass, beautiful wood and a perfect transition between the outside and inside. That's what makes a successful outbuilding."
"Details complete a design. Parquet flooring that seamlessly extends onto the terrace. The beauty of a corner window without a column. Seeing the result of your design is always the best moment." In addition to designing, Simon also follows-up with the site. I drew the plan myself. If something is not entirely correct, I will see it immediately and as such can respond quickly to it. That is the advantage of a total approach."

- Woodstoxx
Who: Simon Mailliard
Age: 33
Role: Technical draftsman
Quote: "I make furniture at home. Sawing, measuring, being creative with wood gives me peace of mind."