Arthur, Terrace fitter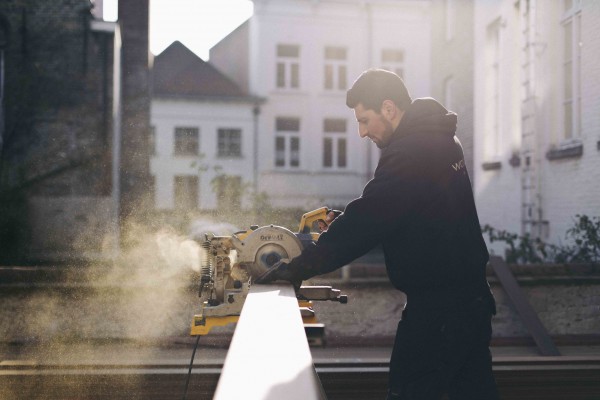 A rectangular terrace, that's boring to Arthur Sarmosian. Give him a terrace full of bows, cutouts and steps any day. At least then he can really show off his talent. The more difficult the assignment: the more I enjoy doing it."
Arthur is one of the specialists in the installation of a wooden terrace. And he's more than happy to show what he can do. "A terrace looks like a terrace, but it's only when you have to measure each board separately, adjust it, and integrate arches and recesses that it becomes really interesting". His most challenging assignment? An extensive terrace spanning eleven steps with twenty arches inserted. Incorporated in the steps, obviously. "And you don't want to be left with a so-called residual board at the end either. That is why we narrow the boards to uniform widths, so that they fill the area exactly."
"It's only when you have to measure and adjust each board individually that it becomes really interesting."
It's not just the shape of the terrace that is decisive in terms of the approach. It's also the place and the type of wood. "One type of wood is more susceptible to expansion than the other. You have to respond to that. The edge of a swimming pool for example, we would immediately opt for wood with a straight grain. They are slightly less sensitive to moisture and temperature fluctuations. We even take the sun or shade into consideration."
One thing Arthur has to work on: his own wooden terrace. "It's not there yet, but will happen", he laughs. "I choose padauk. It's a very stable, straight and fairly light wood. That makes it easier to handle and pleasant to work with. The fact that it's light also spares my back a little. Which is a bonus", concludes Arthur with a wink.
Wooddoxx
Who: Arthur Sarmosian
Age: 28
Role: Terrace fitter
Quote: "Of course I feel proud when a beautiful terrace is finished. I even take photos."