Multilayer Parquet Chevron Belgiqa Life Lounge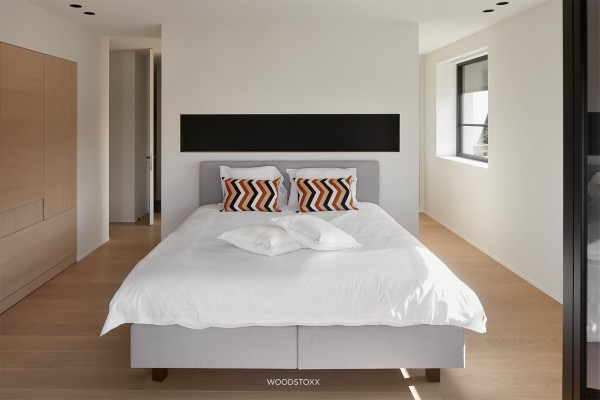 This masterpiece is located in the heart of Zoute. Woodstoxx was allowed to collaborate as a partner with interior environment Kraaiprojecten and project developer Padron by Potrell to transform this gem into a villa full of character, combining cosy living with multifunctional use.
Interior designer Kraaiprojecten sketched out the old villa as a new, fresh home in a modern style. Behind every corner hides a discovery. The interconnectedness of the spaces creates an open structure. In the living space, the boundary between inside and outside is blurred by the large windows. The wide windows give the residents a beautiful view of the garden. The look is timeless, sleek and elegant.
The white interior was combined with the Belgiqa Life Lounge. The traditional herringbone pattern in the living space blends beautifully with the multi-layered parquet in normal plank form. Together they form a dynamic that gives the floor character. On the upper floor, the multi-layered parquet was extended, so that everything forms a balanced whole.
Photo's : Caféine